THE SPACETIME CONTINUUM AND KABBALAH
What is the "spacetime continuum" and why is it called by that name? Einstein showed that time and space are really two sides of one coin — spacetime. Wikipedia says: In cosmology, the concept of spacetime combines space and time to a single abstract universe. Wikipedia further states: spacetime is any mathematical model that combines space and time into a single interwoven continuum. 
Kabbalistically, how does this relate to our lives? I mean, who really cares about some abstract mathematical model that links time and space when I am having an anxiety attack and shallow breathing from all the stress and problems staring me in the face?
How does the idea that time and space are interrelated and connected benefit my life when I cannot get along with or connect with my partner, wife, husband, customer, boss, friend, foe  and anyone else who is annoying me in life?
Very simple.
Einstein also showed that time is an illusion. Tomorrow is here right now. But the illusion of time "delays" tomorrow, creating space between ourselves and tomorrow.
So the only reason the redemption, the Messiah, world peace, and our destined fulfilled future where death does not exist is not yet here, is only because the illusion of time creates the illusion of a future. If, however, we can remove time, we will bring the blessed future into the now.
How do we remove time?
Kabbalist Rav Berg explains that the answer is found in the spacetime continuum.
When we remove SPACE between people (the secret technology called love thy neighbor) we then remove the TIME delaying our redemption.
That's it.
Nothing more.
Conflict between people is what creates space between people and thus enhances and upholds the continued illusion of time because space and time are connected as one — the spacetime continuum. As long as Jews, Muslims, Christians, Hindus, Atheists and other engage in conflict with one another, and within their own circles, we delay the goodness and wonder and peace that is our destiny.
The redemption is already here. Paradise is here. A world without pain and death already exists. But, again, the illusion of time "delays" it.  Removing space between people is how we eradicate time from the universe.
Now, one last simple point: What causes conflict and thus, space, between people?
The ego.
Period.
Therefore, it is the ego that is creating the illusion of time. Remove ego, which removes space between people, and suddenly the future comes into the present.
When the world eradicates a critical mass of ego from the landscape of human existence, the illusion and mirage of time will crumble and paradise will appear in the present moment.
Ego creates time. Ego creates space. Ego is the sole and singular cause of our imprisonment in the present moment of chaos, darkness, pain and death.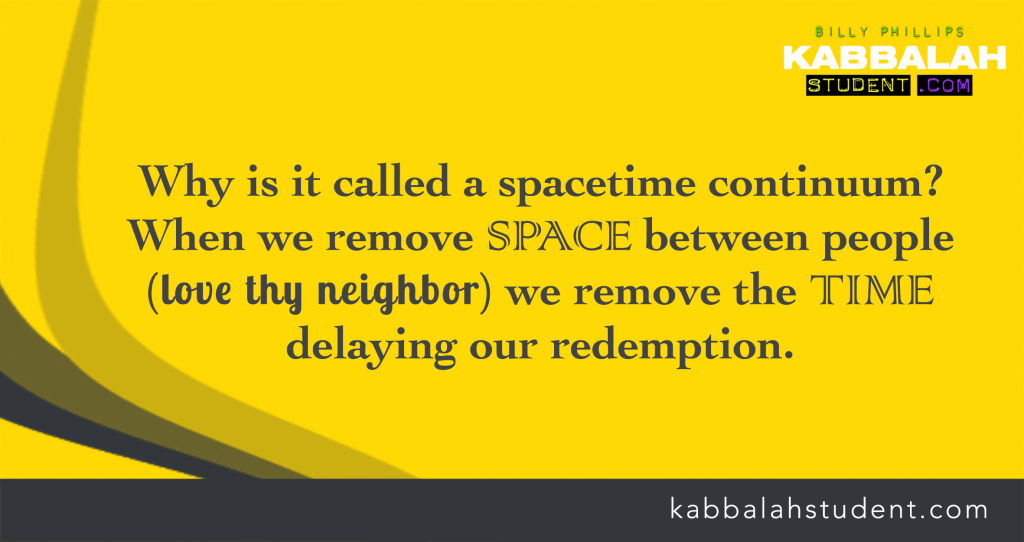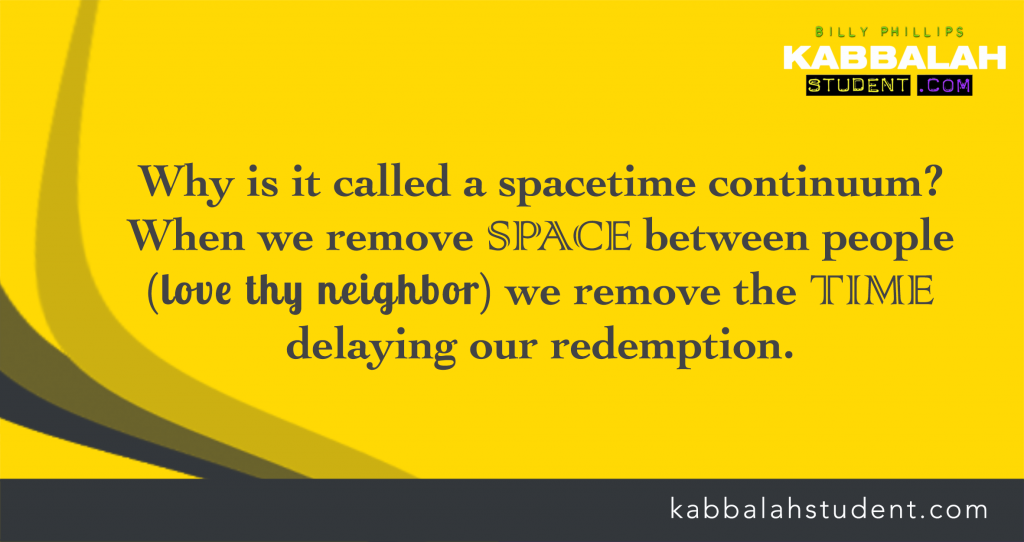 FREE webinar with Billy Phillips
In this free webinar, Billy shares some powerful insights about Jesus and the Messiah riding a Donkey and why the secret teachings of Jesus are coming out at this point in history. He also reveals a startling redacted section of Zohar that was taken out back in the middle ages.