MECCA AND KABBALAH
The Torah portion known as Vayeira features a famous incident in history where Abraham binds his son Isaac in an attempt to slaughter him as an act of sacrifice. There is a subtle connection to the world of Islam in this specific Torah Reading.
First, according to Kabbalah, the story is really about how we must learn to bind and sacrifice our own ego and selfishness in order to better serve our fellow-man through the will of our soul. Abraham represents the goodness of our soul. Isaac is a code for our ego, the ugly self-interest that we must bind and slaughter so that we can love our neighbors unconditionally. Our neighbors include Muslims and Christians and Hindus and all humankind.
Let's now take a brief glimpse into the Islamic world where we will find a curious similarity with the path of Kabbalah.
In the Muslim Holy City of Mecca we find one of the most sacred shrines in Islam.
It is called the Ka'ba.
Thousands of Muslims circle it every day and a billion Muslims turn to face it during their prayers five times a day.
The Ka'ba is a black cube.
The tefillin (phylacteries) worn each day by the Children of Israel are also a black cube.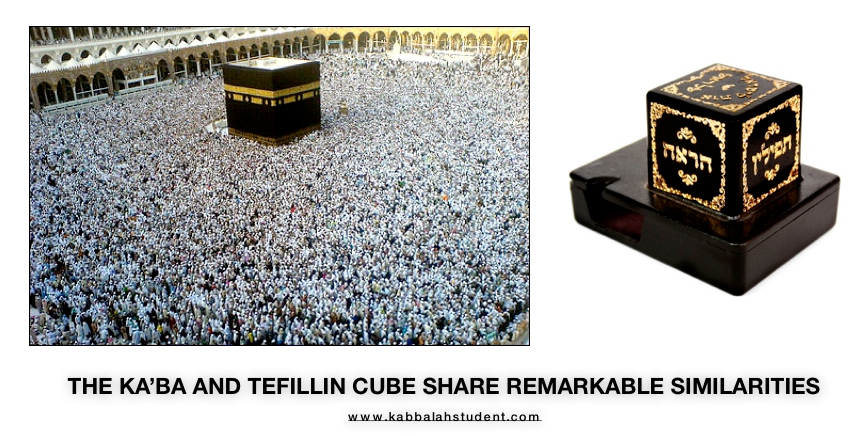 Kabbalah explains that we wrap the tefillin around our left arm seven times, to bind and weaken our negative desire and ego.
According to both Kabbalah and Islam, there are seven heavens, or seven dimensions in the spiritual world that directly influence our world. This is why there are seven notes of music, seven seas, seven continents and seven days in the week. We have seven layers of negativity within us and we want to bind and slaughter those selfish layers that make us treat others with disrespect.
The Zohar explains this is the secret behind Abraham binding his son Isaac. Each of us are required to sacrifice our ego for the sake of sharing with others. The tefillin act like an antenna that draws down a powerful spiritual force from theses seven dimensions that negates and sacrifices the influence of our selfish nature and ugly ego. 99% of Jews have no clue that this is why we bind tefillin on our left arm. We use the left arm as the left embodies our ego and the negative (Isaac) , whereas the right refers to the soul and the positive (Abraham).
Each year, Muslims embark on a pilgrimage (Hajj) to walk around the Ka'ba in Mecca seven times. This mirrors the process of binding our tefillin.
The purpose of Hajj for Muslims is to connect to the same event of Abraham binding Isaac (Muslims relate this to Abraham binding his son Ishmael).
The connection is profound. Only Kabbalah explains the true spiritual purpose.
Perhaps this is why the Ka'ba in Mecca is known as the House of Allah.
Ka'ba and Allah, as we know, spells Kaballah.
This extraordinary secret about the similarity between Hajj, Tefillin and the Ka'ba was right in front of our face the whole time!
FREE webinar with Billy Phillips
In this free webinar, Billy shares some powerful insights about Jesus and the Messiah riding a Donkey and why the secret teachings of Jesus are coming out at this point in history. He also reveals a startling redacted section of Zohar that was taken out back in the middle ages.